Report at the international conference "Consumer Behaviour in Tourism" in Munich
On December 2-4 a large-scale international scientific conference in the tourism field "Consumer Behaviour in Tourism Symposium 2015" took place in Munich, Germany. Elena Zelenskaya, a post-graduate student and an assistant researcher at the Laboratory for Cultural Economics, participated in the conference and presented a scientific paper. The conference was dedicated to such problems in the hospitality sphere as tourism competitiveness, new trends in development of destinations, adaptation strategies to changing tourist demands, the link between tourism and quality of life, etc.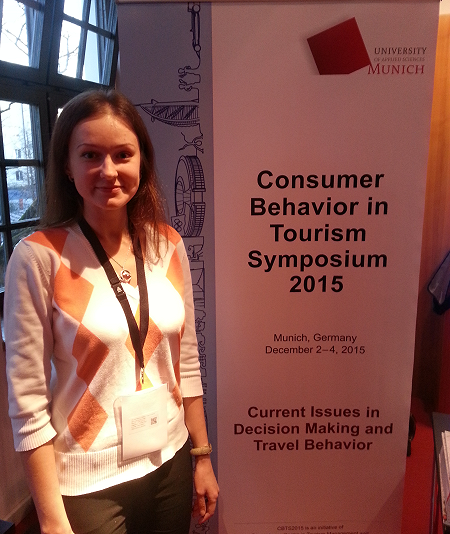 Elena presented a paper during the PhD session that opened the conference. The presentation was made with accordance to the topic of Elena's dissertation that concerns competitiveness factors of tourist services. "I found it very important to present preliminary results of my work on the dissertation and to receive feedback. I described in detail the scientific problem of my research, methodology and preliminary results. I received precious comments that allowed me to see whether I am going in the right way in my research, what I should correct, and what deserves more attention. The format of presentations was very unusual: at first post-graduate students had to make a short 3-minute presentation that gave a general overview of their research; afterwards we were split into two groups and we were allocated 15 minutes to make a longer detailed presentation. We were making presentations in front of keynote speakers of the conference, each of whom is a prominent researcher that publishes actively in international journals. Thus PhD students had a brilliant opportunity to embrace the knowledge and expertise of senior colleagues".
Apart from the PhD session, Elena took part in other sessions as well. "At international conferences one can always grasp a lot of new ideas for future research, see new trends and topics that are in focus of scientific research in respective field".


One of the most valuable parts of the conference was panel discussions with keynote speakers. Many of them are editors-in-chief of prominent international journals that have an impact factor in Scopus or Web of Science. "One of the most useful panel sessions was the one when the editors were discussing the topic "how to get published?". They gave a lot of advice and these small details may be crucial when it comes to either rejection or approval of your article. In particular, the editors recommend the following:  to pay more attention  to the abstract since it is often the only part that the reviewers get to read; to write cover letters and submit them together with a manuscript; to submit the paper into a journal that indeed fits the topic, for that purpose one should study carefully the previous editions of the journal to understand whether the article should be changed slightly or significantly, or whether it should be sent to another journal".